Hey guys, this is one of my favorite games of all time! Having very little system requirements, I was able to play and finish this game on my PC a few years ago. I love this game! There is so much you can do, especially if you download mods, but you should save that for after you finish the game. "What do you mean?" you say? "A game you can keep playing by yourself after you finish the campaign?" Yes. This, like I'm pretty sure all of Rockstar's games are, is open world and non-linear, sometimes called sandbox. While Minecraft is 100% sandbox, GTA still has a lot of missions having to do with the story. So you can't just start roaming around as soon as you start the game. As you go through with the mission, more side quests and places are unlocked, and that is where the fun begins.
As you can see, the map is huge. When you begin the game, you start out at the bottom right city, and you are unable to go anywhere else, which I'll explain later. After some quests, you get to move out into the top right and bottom left and after a while, you are able to virtually go anywhere, which has wasted some of my days while playing this game. Driving quickly with a motorcycle or a Lambo (mods) through the country is amazing, especially with the fact that if you play this on PC, you can configure the radio so that your songs are the songs on the radio. I praise Rockstar for adding this neat feature.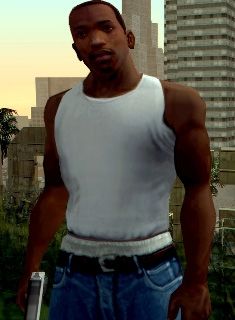 So this is how the story goes, you are CJ, or Carl Johnson, a former gangbanger, returns to his home city of Los Santos after he hears of his mother's death. Scumbag police officers, Tenpenny and Pulaski pull hims over and drop him off far away. You begin while riding a bike back to your old house. Sean Johnson, or Sweet, Carl's brother, blames Carl for their mother's death, because he left to live in Liberty City. That is the basis of the story, and I won't go more into it because the story is just incredibly long.
Most of the game is either you doing favors for someone in exchange for something, or you doing something with your friends. My favorite mission in this game was when you are robbing a casino. It reminded me of the Ocean's series.
Overall, this game is one of the most fun, exciting, painstaking, annoying, awesome and horrible games I've played. Of course the negative responses are towards the missions I just could not seem to beat. The last mission required me to use mods to get through, but don't worry, I did it without hacks in my second playthrough of this game. I think around 10 days of my life have been spent playing this game, but what can I say? It's really fun, however you probably don't want to play this game around a younger kid.